42nd Annual Pan Pagan Festival
August 1-5, 2018
Theme: Walking the Path of the Ancients
Artwork: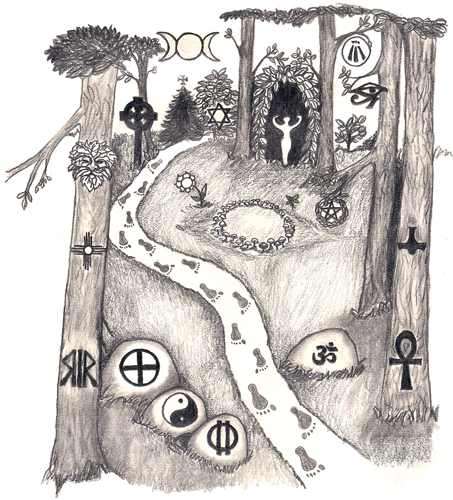 Come be part of one of the oldest Outdoor Pagan Festivals.
2018 Musical Guest

Mama Gina!
Mama Gina feels most at home when she can feel the earth beneath her feet and taste the freedom of the open sky. She is a Bard, singer/songwriter, fearless storyteller, and wanderlust.  With down-to-earth, bluesy vocals, a bit of humor, and straight-ahead, rhythmic, acoustic guitar, djembe and frame drum, she tells the true stories that fall into her head and heart. She sings of life, death and rebirth. She sings of holding on and letting go. She speaks to the Gods and Goddesses and they speak back.  Oh, boy, do they speak back!  She sings their stories as they become her own. She sings of her spiritual connection to the natural world, and of our responsibility to nurture both the mundane and the magical. When she is not performing, you just might find her camping in the woods seeking inspiration from the earth beneath her feet and that vast, open sky.
Links
2018 Guest Speaker
Drum Pagano
ADF, OBOD, and RDNA Druid, and Archdruid fo ADF, who found Druidry with help from Margot Adler and Drawing Down the Moon and through his love of trees. He became a charter member of ADF in early 1984.
Priest, Initiate, Master Bard of ADF, and Druid Grade member of the Order of Bard, Ovates, and Druids. Author of Arise from Vapours, Willow Flow, and A Tree for the Earth Mother.
He writes for three blogs: From a Common Well, A Druid's Progress, and Journeys (Witches and Pagans). He looks forward to sharing his practice.